Commitment to Quality
» We Test Every Single Product
While many companies only test random samples, at Wood's Powr-Grip, we test each and every product to ensure consistent high quality.
» ASME and ANSI Engineering Standards

Wood's Powr-Grip follows design standards set by the American Society of Mechanical Engineers (ASME) and published by the American National Standards Institute (ANSI). Though compliance is voluntary, these standards keep our customers' workplaces safe.
» CE and UKCA Certification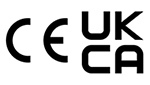 WPG's compliance with European Union and United Kingdom health and safety regulations shows our commitment to international customers who follow CE and UKCA Standards.