The WPG App for Intelli-Grip Lifters
Use your phone to monitor the status of vacuum lifters
Benefits
Better access to information
While the lifter's vacuum gauges and LCD screen display vital data, the app puts the same information at your fingertips — often in greater detail.


Safer workplace operation
Viewing information from greater distances is perfect for operators performing multi-story installations.
Supervisors can monitor multiple lifters on a job site.


Keep up with Intelli-Grip improvements
Software updates for lifters can be installed via the app.


Easier Troubleshooting
Live Stream Troubleshooting can send diagnostics to WPG in real time. Live Stream Troubleshooting
What Lifters Will the App Work With?
Intelli-Grip "DC3" Lifters made after May 2019 will be App ready.
DC3 Lifters made before then can be upgraded with this device to be compatible.
Tell us what you think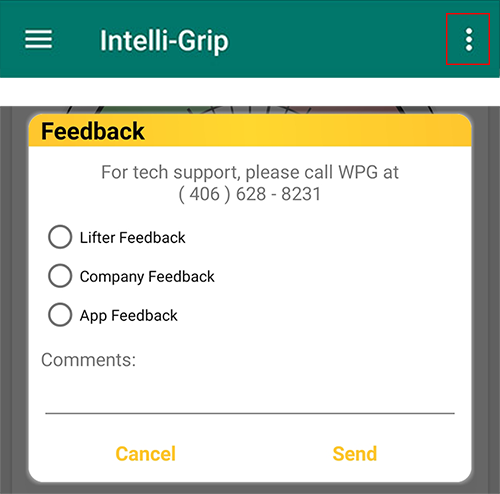 Interested in giving us feedback?

Leave a review on Google Play or the App Store!

Or send us suggestions on the app (see image).