Suction Cup Lifters for Curved Glass
---
Our Curved Glass Lifting Solutions
Note: Other versions of these lifters are not intended for curved glass.
Be specific with your Dealer and ask only for the models listed below.
---
Installing Curved Glass - Safely and Efficiently
Architects and building owners are often ambitious with their designs, which probably gives glaziers a knot in their stomach. Curved glass can be a dramatic addition to any building, but the process of bending flat glass is both time consuming and highly specialized. Naturally, curved glass is very expensive. To safely and efficiently install curved glass windows, you're going to need some specialized equipment you can trust.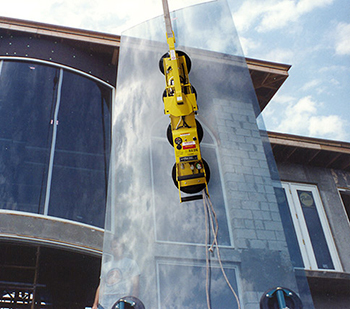 Standard
Wood's Powr-Grip manufactures in-line channel lifters with specially-designed concave suction cups for curved surfaces. The unique shape of these suction cups allow the sealing edge to flex and shift while keeping a firm seal. Channel lifters are ideal for most residential curved glass windows, (especially if they are more narrow), and can handle loads up to 600 and 900 lbs.
Medium
For wider and heavier pieces of curved glass, we have several options that feature free-swiveling concave suction pads. These lifters are ideal for many projects in city centers and on specialized buildings. Our medium-sized units lift loads weighing up to 1,200 and 2,000 lbs.
Large
Truly large projects require our largest standard curved glass lifter, the MR32. This lifter is equipped with two rotating lines of concave cups that can be precisely adjusted to different curvatures. It also boasts an impressive 3,600 lb capacity.
Updating Existing Glass Lifters
In a perfect world, using a lifter you already own would be ideal. However, that lifter is most likely intended for flat glass loads - due to the flat vacuum pads it uses. In the case of the P1, our concave style pads can be installed to upgrade it to a curved glass lifter. If you already own the MRTA8, the pad frame option may do the trick. And if you already own an MRPT16-DC3, purchasing the 58221C pad frame option will have you lifting 2,000 lbs of curved glass in no time.
We Have What You Need
By supplying WPG with a few details, such as arc length, height, angle, chord and radius measurements, we can help you prepare for whatever wild plan the architect has dreamt up! Our evaluation of your measurements could mean a custom lifter needs to be designed. Or it could be as simple as updating your existing lifter/s. Whatever the case, Wood's Powr-Grip has options available that will work for you. Use the links at the top of this page to identify your requirements and buy or lease a lifter you can depend on!