Vacuum Lifters for Stone
We make stone lifters with suction cups that do not damage surfaces like slings, metal hooks or tongs.
---
Popular Products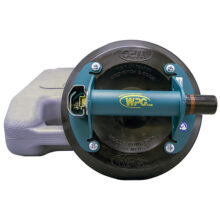 "N4300" Hand Cup for Stone
Capacity: 125 lbs
Pumps quickly by hand.
Resists grit from stone shops.
More Details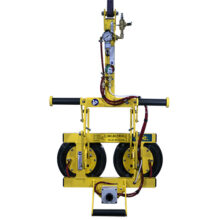 MTA2 Stone Lifter
Capacity: 300 lbs
Powered by: Compressed Air
Movement: Easy-Tilt
More Details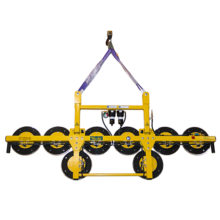 MT8 Stone Lifter
Capacity: 1,200 lbs
Powered by: Compressed Air
Movement: Tilt
More Details
PT10 Stone Lifter
Capacity: 1,500 lbs
Powered by: Compressed Air
Movement: Powered-Tilt
More Details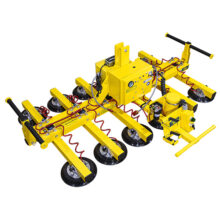 Custom Stone Lifters
Capacity: Up to 3,000 lbs
Powered by: You Decide
Movement: You Decide
Send Us Your Specs
---
Wood's Powr-Grip has a full line of products for handling stone in warehouses, production floors, installation and more.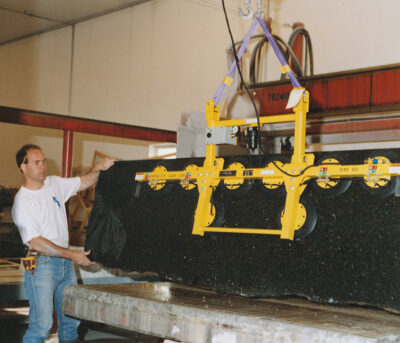 Stone is heavy and expensive. That means handling granite or other slabs requires a stone lifter that is both powerful and safe. Wood's Powr-Grip makes suction cup lifters for handling granite and other stone slabs that attach securely and safely using battery, compressed air, AC, or hand-powered pumps.
A stone suction lifter, (like our stone Vacuum Lifters and Hand Cups for stone,) is a safe and efficient way to move and install slabs of stone, like granite, marble, soapstone, and slate. Unlike slings, metal hooks or tongs, vacuum lifters attach to a stone's face with rubber vacuum cups, so they will not chip or break slabs. Suction cups attach securely and quickly, safely grip the stone during transport or installation, and quickly release to maximize productivity. Our stone lifters can also be used with forklifts, allowing large stone slabs to be lifted and transported effortlessly across the construction site or the stone shop. Stone Vacuum Lifters allow a single operator to quickly handle large volumes of stone.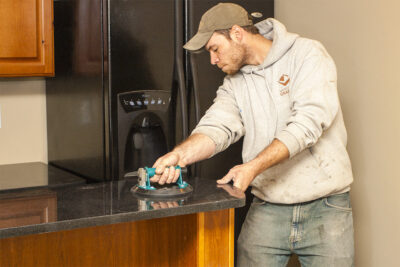 Quarts countertops and other stone surfaces are easy to install with the right tools: professional suction cups. Hand-held vacuum cups allow workers to get ahold of hard to handle loads. No more pinched fingers or hands - just place a handle anywhere you need on a countertop with the power of vacuum. These stone suction cups attach quickly using a powerful hand pump. Hand Cups also feature a red-line indicator, warning the operator of low vacuum that requires re-pumping. Hand-Held Vacuum Cups are perfect for handling and positioning smaller stone slabs, like installing kitchen counter tops.
Larger countertops and precut stone slabs are best handled with below-the-hook stone Vacuum Lifters. The suction lifter is connected to either a crane or forklift, and is powered by mobile battery, electrical outlet, or a local compressed air supply. A variety of options and capacities make these lifters safe and efficient ways to transport and handle heavy stone slabs.
Wood's Powr-Grip stone lifters and hand held vacuum cups are used in stone shops and on construction sites around the world, and are available through a dealer near you. If we don't have what works for you, we can design a lifter especially for your needs.