About Us
Who We Are

Wood's Powr-Grip Co., Inc. began as a small repair shop and grew into a worldwide leader among manufacturers of vacuum lifting tools and equipment. Located in Laurel, Montana, U.S.A. (just west of Billings, Montana's largest city), Wood's Powr-Grip employs a team of about 150 employees in our 72,500ft2 [6735 m2] facility.
WPG's philosophy is simply to "do the right thing" for customers, dealers, distributors, and business partners, as well as for our employees and community.
Our History
In 1947, Howard Wood opened Wood's Auto Electric, an automotive, electric and small engine repair shop in Wolf Point, Montana. After years of frustration while trying to hold small engine valves during the lapping process, Howard designed and built the first Wood's Powr-Grip Valve Grinder in the early 1960's. The tool consisted of a small, spring-action vacuum pump mounted in a wooden handle, opposite a rubber suction cup which attached to the flat surface of an engine valve.
At first he simply built these tools for himself and friends, but soon the general public was demanding the unique little tool. As the popularity of the Powr-Grip Valve Grinder grew, a glazier friend suggested Howard develop a vacuum cup for handling glass.
Howard experimented and developed vacuum cups in a variety of sizes. It wasn't long before the glass industry took note of the invention. These cups possessed a unique red-line vacuum indicator on the pump that warned the user if vacuum loss occurred and a check ball that restored lost vacuum without breaking the cup's grip. Neither of these features—the trademarks of today's Powr-Grip vacuum cups—were available anywhere else in the world at that time.
Howard began manufacturing vacuum cups for glass handling in 1963, incorporated the business in 1964, and obtained a patent for his design in March of 1966. The cups were first introduced to the American market by traveling salesmen. As popularity grew, the vacuum cups appeared in national and international glass handling equipment catalogs.
In the late 60's, Howard developed and patented a battery-powered, sealed foam vacuum lifter for use with overhead cranes and hoists. Capable of handling loads up to 600 lbs. [270 kg], this design was the first of many below-the-hook vacuum lifters. Over time, a wide variety of manual, AC, DC and air-powered vacuum lifters were designed and built to accommodate an ever-growing market.
Howard died in Wolf Point on January 28, 1983 at the age of 73. The company moved from Wolf Point to a larger facility in Laurel, Montana in 1990 and maintained Howard's founding principle of "doing the right thing" for customers, employees, and everyone who comes into contact with WPG products. Wood's Powr-Grip is now under a third generation of family management. Our vacuum cups and below-the-hook vacuum lifters can be found in nearly every country in the world and have become standards in the glass industry.
Our Products
Wood's Powr-Grip designs, manufactures and distributes tools and equipment that improve efficiency, enhance safety, and lower costs. We offer a full line of hand-held vacuum cups, below-the-hook vacuum lifters and vacuum mounting cups that make materials handling and equipment mounting easier. Powr-Grip tools lift, hold and position a variety of smooth, nonporous materials such as glass, plastics, engine valves, sheet metal, solid surfacing, laminates, stone slabs and appliances. Each product is individually tested before shipment from our production facility, ensuring quality and safety for the user.
Custom Products
At Wood's Powr-Grip, we understand the critical role our products play for customers in a variety of different industries. We offer standard models to meet almost every need for ease of use, reliability, safety, ergonomics, and reasonable cost. However, if one of our existing models doesn't match your exact requirements, we design and manufacture completely new products, or modify an existing design, to address specialized applications.
Distribution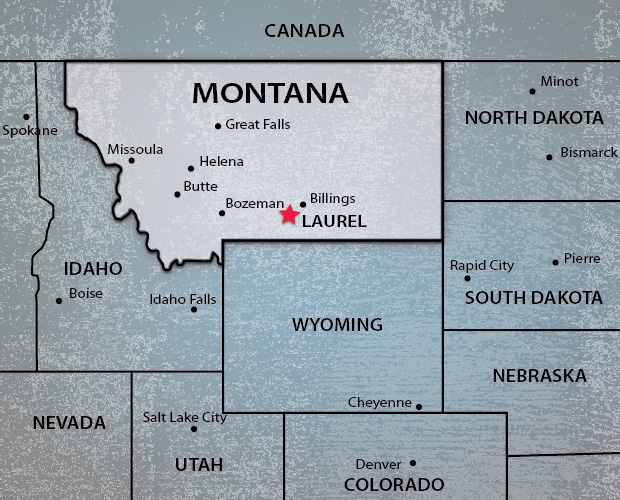 While Wood's Powr-Grip is based in Laurel, MT, our vacuum cups and equipment products are distributed internationally in nearly 50 countries through an extensive network of dealers and distributors.
At present, our products are most widely used within the following industries:
Glass
Stone
General materials handling
Construction and remodeling
Flooring
Equipment mounting
Sporting goods
Photography
Picture framing
Valve lapping
However, industries such as agriculture, HVAC, plumbing and many others utilize the diverse applications of our products.