Engineering Expertise & Manufacturing Capabilities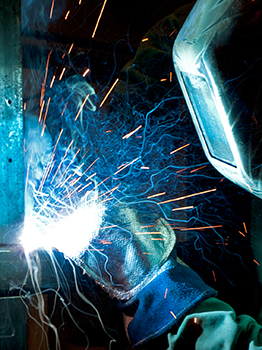 WPG engineers have the ability to design lifters for virtually any lifting need imaginable. Our product line is the result of the hard work and commitment of our experienced engineers and production staff.
As an example of this commitment, we keep tabs on Standard B30.20 of the American Society of Mechanical Engineers (ASME), which addresses issues including vacuum handling. This gives us a special familiarity with developments in our field.
Also, design engineers are personally involved in providing technical support, and work with users and distributors in developing new products. This hands-on approach allows Wood's Powr-Grip to design vacuum cups and equipment that lead the industry.
For machining operations, Wood's Powr-Grip utilizes a range of manual mills and lathes, as well as cold saws, shears, and more. Our manufacturing facility is also equipped with several CNC mills and lathes, which are programmed by our experienced machinists and engineers using Computer Automated Manufacturing (CAM) software.
Wood's Powr-Grip vacuum lifters and other products are constructed with only the strongest welds, made by our extensively trained and tested personnel. Our welders use the best equipment available to perform a number of techniques for both aluminum and steel, including GTAW and GMAW, as well as brazing, soldering and hot bending. Every type of structural weld is extensively tested and qualified through our internal quality control requirements, in accordance with ASME guidelines.
With our engineering and manufacturing teams working together, Wood's produces some of the highest quality products available in the industry.