California Proposition 65
Concerning the sale of WPG products in California:
Proposition 65 Warning: Some products sold on this website contain chemicals known to the State of California to cause cancer and birth defects or other reproductive harm.
Due to the large number and range of our products, and out of an abundance of caution, Wood's Powr-Grip has chosen to provide this warning on all products without yet attempting to evaluate the level of exposure (if any).
For more information, see the California Proposition 65 website.
For re-sellers of Wood's Powr-Grip products:
For Internet & Catalog Sales
For internet and catalog sales, regulations require that the warning below be displayed "prior to or during purchase of the consumer product, without requiring the purchaser to seek out the warning." See below for "Affected Products".

WARNING Cancer and/or Reproductive Harm - www.p65Warnings.ca.gov
(Download the official image here.) More information on website guidelines.
For Physical Retailers
Physical retailers of Wood's Powr-Grip Co., Inc. products that may enter the stream of commerce in California, have a duty to provide a warning to the purchaser of WPG products. A retailer must post a warning sign at the retail outlet at the point of display or at the checkout counter so that it is likely to be seen and read by the purchaser of WPG products. The warnings in the links below (Affected Products), if properly displayed, satisfy the clear and reasonable warning requirement of the statute.
---
Affected Products
Prop 65 Lead Warning - applies to products with brass fittings and parts, including: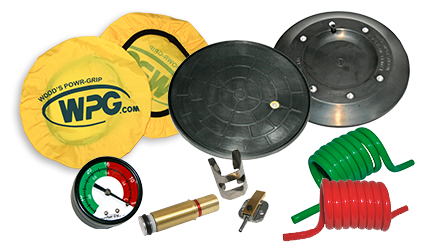 Prop 65 Phthalate Warning - applies to products with the Industrial-Grade Plastic Plunger Assembly & Small Pump Assemblies: