How They Work
Vacuum cups use the force of atmospheric pressure to grip a surface: To learn more, see About Vacuum.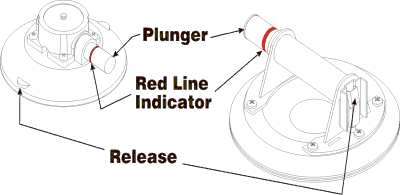 Each vacuum cup's pump features a plunger with a red line indicator, which warns users of low vacuum. Introduced by Powr-Grip in the 1960's, this safety feature is now an industry-wide standard.
A few strokes of the plunger causes it to securely seal to surfaces.
The cup is fully attached when the plunger stops moving and the red line is hidden.
If the red line appears, air has leaked back into the pad: Repump the plunger to resecure attachment.
When done lifting, either pull the release tab on the pad, or press the release lever on the handle (depending on your model).
For detailed information about using Powr-Grip vacuum cups, consult your product's Instructions.