by Joe Landsverk
It's the early 60's in the small Northeast Montana town of Wolf Point where Howard Wood owns and operates Wood's Auto & Electric Company. In previous years, Howard has successfully invented, manufactured and marketed a tool to Briggs and Stratton, a well known small engine manufacturer. [caption id="attachment_413" align="alignright" width="211"]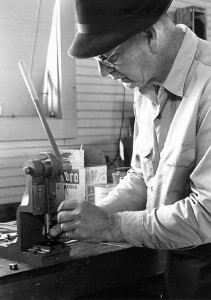 Founder Howard Wood.[/caption] His invention, the
Valve Grinder
, employs a small finger-operated vacuum pump and dart-like suction cup for lapping small engine valves. A friend of his suggests that he develop a larger version of the vacuum pump for gripping glass; and Howard sets out to do just that. It's 1964. Howard, his new invention for lifting and carrying glass, and a small group of local investors get together and begin the story of what has come to be Wood's Powr-Grip Company Incorporated. Fifty years later, Howard's invention, his company and his family are still going - and growing strong! No longer selling out of the trunk of a car to individual glass shops, the company distributes its products worldwide through a network of multi-industry dealers! Now in its third generation of family management, the company is located 300 miles Southwest of Wolf Point in Laurel, Montana, 12 miles West of Billings, Montana's largest city. Operating out of its 55,000 square foot manufacturing and corporate headquarters, and employing well over a hundred people, the company manufactures dozens of vacuum pads and uses them on its hundreds of standard products (and many more custom ones). Last year, to begin marking its 50 years of incorporation, Wood's Powr-Grip Co., Inc. began introducing a new emblem; you may have noticed it appearing on its products, ads and website. This year, in combination with a new domain name, Wood's Powr-Grip is reintroducing itself with a new corporate emblem; and you will see it a lot more of it in the coming years!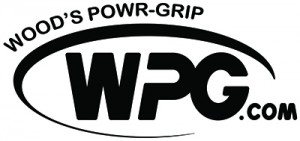 Still the same company. Still
the Original & Trusted Name in Vacuum Lifting Equipment
, its philosophy remains the same:
do the right thing
for the users of its products, its dealers, business partners, as well as for its employees and community! Along with its commitment to the quality and safety of its products, this simple philosophy has served them well in their last 50 years and they look forward to continuing their service to you for another 50!
---
Joe Landsverk was the Marketing Manager at Wood's Powr-Grip. With more than 25 years service, he oversaw the company's day-to-day marketing and advertising activities.