by Lee Ann Wood
The people at Wood's Powr-Grip feel strongly that, as a company based in the small town of Laurel, Montana, it's important to give back to the community where we live and work. In past years, our efforts included making Christmastime donations to Toys For Tots. More recently, however, we turned our focus to making a greater impact in the Laurel area itself. On behalf of Wood's Powr-Grip and its employees, I contacted a local community charity called Community Hope and asked what we could do.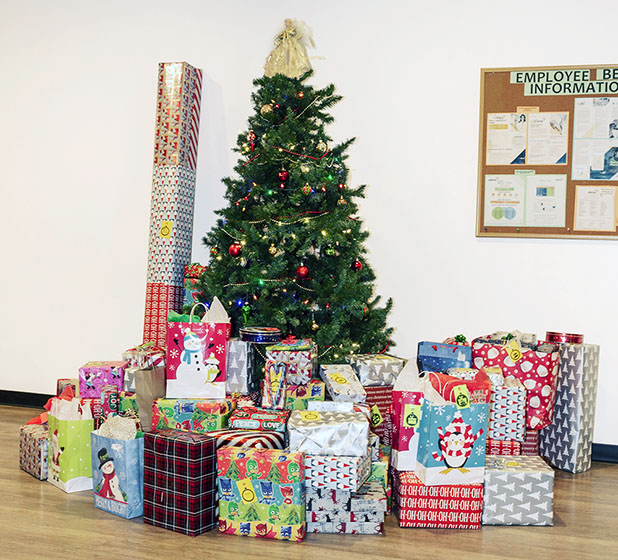 One of the programs the charity has involves adopting local families, which are screened for their needs. This year, we adopted three families. Each family gives us a list of what they need or would like for Christmas. Sure, there are times kids don't understand how much things cost for the toys they want — after all, did we pay attention to price tags when we were circling ads in the Sears Catalog as kids? Sometimes we are still able to get them those gifts, such as the 10-speed we once presented to a girl. Then again, kids do need bikes.
There are the needs of the parents, too. They ask for things like shampoo. And deodorant. And work clothes. … My heart falls apart reading the list.
Wood's Powr-Grip employees had two ways to give to the program this year: The first way involved creating wish-list ornaments for employees to take off our Christmas tree. Then they returned with the requested gift items for me to organize. The second way (for those who don't like to shop) was to donate cash, which was matched by the company.
We succeeded to fulfill the wish lists and more, which has enabled us to "go off script" and get family members some extra things they didn't even know they wanted — like movie tickets! Besides, who would want to know everything they got, anyway? What child, at least here in Montana, wouldn't be excited about a new fishing pole? Oh, and throw one in for Mom or Dad so they can spend some family time together. We all need memories around the table, too, so we donated items needed to dress a dinner table (because everything tastes better when the table is pretty). And, of course, we included a $50 gift card to buy groceries so they can have a dinner.
So how did we do this year? Just look at the picture — that is for three families.
Finally, there's the part of the process that's sometimes emotionally tough but always rewarding: Delivering the presents. I have held people for 20 minutes as they cried in disbelief. Men have gotten misty-eyed — one man even remarked how wonderful it is to live in "Mayberry." A child who, upon seeing what came through the door, sat down with his head in his hands and was left speechless.
Many times I have been to homes where the families didn't have a tree to put up, let alone a present to have under it. I am so grateful for all I have and for my fellow Powr-Grip co-workers for embracing the spirit of Christmastime giving.