WPG Adds TWO GIANTS to its Lease Fleet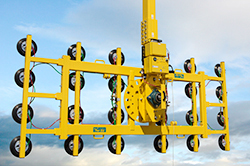 There is a growing demand from the construction industry for larger glass, curtain wall and architectural panels. When you are in need of a vacuum lifter to install large glass units, check out WPG's leasing program. Now available for lease are two giants: the MR2411LDCS and the CB3DCS.
The MR2411LDCS manual rotator is a lifting solution well suited to the installation of large curtain wall or unitized glazing systems. With a maximum lifting capacity of 4200 lbs [1905 kg], this truly is the heavyweight champion for these applications.
Removable pad frame sections allow reconfiguration of the frame to accommodate a variety of different load dimensions, maximizing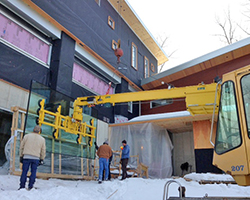 support and rigidity for the curtain wall or unitized panel during lift and installation. The lifter's 12-volt battery system packs enough energy for a full day's work and enables cord-free operation from any crane or overhead hoist.
The next new addition to WPG's Lease Fleet is the CB3DCS Counter-Balancer. Specifically designed to pair with WPG's MR1611LDC, its
high capacity and remote control operation enable the positioning of oversize glass under gables, overhangs or other similar obstructions.
For more information on WPG's lease equipment, [email protected] or visit www.wpg.com.