by David Peters
The forklift is one piece of equipment that can be found in almost every manufacturing facility. It is routinely used to transport pallets of raw materials and finished products around the plant for warehousing, stocking, shipping and receiving. After completing mundane daily chores, the forklift sits silently abandoned off in an out-of-the-way corner - not making you any money - not earning its keep.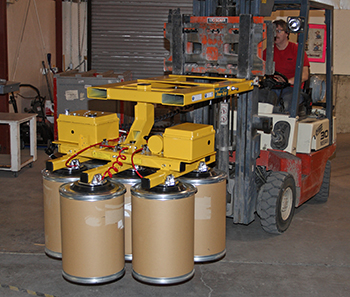 In response to this, Wood's Powr-Grip has developed a way to repurpose the forklift, allowing many enterprising manufacturers to transform it from a dust collecting capital expenditure to a multipurpose, profit-making powerhouse. Over the years, WPG has created a number of forklift-adapter/vacuum lifting solutions for the specific needs of our customers. One such design was a special adapter that enabled the customer to employ a Powr-Grip vacuum lifter and a forklift to lift, rotate and transport 6 kegs of material at one time. Other forklift adapters, designed to work with WPG's popular
MRT4
and
MRTA6
vacuum lifters, are routinely used to install windows under eaves and in commercial, indoor applications, where using a crane is not possible. Most recently, WPG had a request to create a unique forklift-adapted vacuum lifting solution for
Midmark Corp
. Midmark needed a low-profile vacuum lifter that would enable a forklift to lift cabinet making materials off of tightly spaced shelving. The materials ranged from Corian® to resin products and came in a variety of sizes and shapes, weighing between 50 lbs (23 kg) and 200 lbs (91 kg). Once WPG engineers determined how to generate sufficient vacuum to lift the materials at Midmark, they chose a flat lifter design with sufficiently low profile to do the job - the FL4. Removable extension arms were incorporated to enable the operator to adapt the frame length and number of pads to fit the different sized materials. A DC power supply was mounted on top of the tine sleeves and a special "back stop" was added to prevent damage to the power supply when the lifter was inserted into the shelving.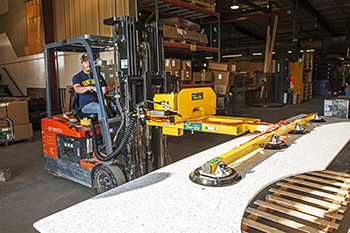 To maximize profitability and productivity, Midmark requested that the vacuum lifter be designed for one-person operation, with the capability of attaching quickly and efficiently without the need for the operator to exit the cab to apply vacuum. To meet this requirement, WPG engineers included a control pendant with a cord long enough to reach from the lifter to the cab of the forklift. The pendant would enable the operator to apply vacuum during the lift and release the load once the material had been relocated. After the forklift-adapted vacuum lifter was completed, representatives of the Midmark Corp. made the trek from Glasgow, Kentucky to Laurel, Montana for a demonstration. Members of the WPG team supplied instructions for use and ran the lifter through its paces. The FL4HV11DCS vacuum lifter passed muster, and was carefully crated and shipped to its new home. If you would like to put your forklift to use with a vacuum lifting solution, please locate the Wood's Powr-Grip Authorized Dealer nearest you, or feel free to
contact
one of our Technical Sales Representatives today.
---
David Peters has more than 40 years experience in sales and marketing. He is currently the marketing associate for Wood's Powr-Grip Co., Inc., responsible for interactive marketing, tracking, market research and new product introduction.