by David Peters
Counterbalance lifters allow glaziers to install large windows under soffits, gables, overhangs or similar obstructions in multi-story buildings and airport towers, by extending the load forward from the center of a crane's hook-point.
Our new CB2DCS Counterbalance Lifter can handle loads of up to 1600 lbs [725 kg] and provides a maximum reach of up to 69-1/2" [1766 mm]. The ballast containers accept pea gravel, steel plates, bricks, sandbags, dirt or other materials weighing up to 1200 lbs. [544 kg]. The ballast containers move forward and backward on steel wheels for smooth operation.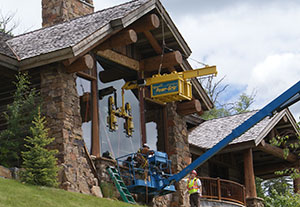 Once the load has been guided into place and securely attached, the operator moves the ballast forward using a remote, to balance the CB2DCS lifter after the load is released. A white light is energized when the load can safely be released.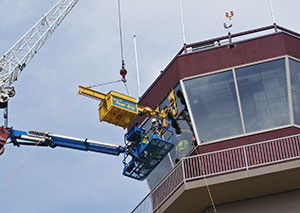 Although designed primarily for installation of windows and other materials under building overhangs, the Counterbalance is also used extensively for installation of airport control tower windows. The CB2DCS Counterbalance represents a dramatic improvement in safety, versatility and functionality! This new Counterbalance Lifter and various vacuum lifters are all available now for lease or for purchase. To find out more, consult your WPG Dealer or feel free to
contact us
.
---
David Peters had more than 40 years experience in sales and marketing. He was the marketing associate for Wood's Powr-Grip Co., Inc. Responsible for interactive marketing, tracking, market research and new product introduction