by Byron LaRue
It has been a long construction season. Your vacuum lifter has performed well. Now that things are slowing down, it's a good time to step back and take care of the tool that has helped you out and made you money on so many jobs. A little maintenance goes a long way in extending the life of your vacuum lifter.
When we speak of maintenance in industrial settings, we normally think of lubricating moving parts, replacing worn out parts or adjusting machines so that they work optimally. Strictly speaking, below-the-hook vacuum lifters from Wood's Powr-Grip do not have a maintenance schedule, due to the nature of their design. Although certain parts may require adjustment and others can wear out over time, the need to adjust or replace parts is determined by inspection and testing schedules: These schedules require components to be examined and tested on a regular basis. Whenever a component does not pass an inspection or test, it must be adjusted, repaired or replaced before the user can resume normal operation of the vacuum lifter.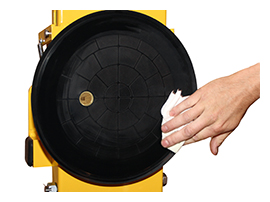 Inspection schedules require inspections at regular time intervals, breaking down into Every-Lift Inspections, Frequent Inspections (after 20-40 hours' use), and Periodic Inspections (after 250-500 hours' use). Every-Lift Inspections cover issues that are critical to the vacuum lifter's function each time it is used to lift a load, such as the condition of vacuum pads and, for DC-powered lifters, the energy level of the battery. Frequent Inspections address problems that are likely to show up sometime after the lifter has been in service for a while, such as damage incurred in previous use or contamination of air filter elements. Periodic Inspections are intended to provide a thorough examination of all lifter components at longer intervals, to ensure no dangerous cracks, corrosion, wear or other damage is developing. Testing schedules require tests when the vacuum lifter is initially placed in service and each time following a repair or installation of factory-supplied options. These tests include a vacuum test, to confirm the vacuum system does not leak; a load test, to determine that the lifter has sufficient capacity to lift the maximum weight for which it is rated; and various functional tests of lifter controls and components.
Details of inspection and testing schedules vary, depending on the specific model of vacuum lifter and any options with which it may be equipped. The exact maintenance requirements for your vacuum lifter are found in the Instructions Manual supplied with it. However, two of the most common maintenance issues for Powr-Grip vacuum lifters are as follows:
Vacuum Pads: We strongly recommend replacing all vacuum pads on a regular basis, such as every two years or less, starting from the manufacture date. They must also be replaced whenever they exhibit wear, stiffness or glaze, or whenever a sealing edge has nicks, cuts, abrasions or any damage which could prevent the pad from sealing against a load surface.
Air Filters: In-line air filters are designed to prevent water and airborne contaminants from entering the vacuum system. However, in order for a filter to function, liquid accumulating in the filter bowl must be removed before it contacts any portion of the filter element. In addition, the filter element must be replaced whenever it becomes too contaminated to work efficiently.
These are just two examples of significant maintenance issues that apply to most Powr-Grip vacuum lifters. Other details are very specific to the lifter type, such as lubrication requirements for lifters with gear-driven powered rotation or tilt capabilities. Be sure to consult the maintenance instructions for your specific model and follow the inspection and testing schedules. To assist you in tracking the maintenance you perform on your equipment, Wood's Powr-Grip has made available this Inspection & Maintenance Log.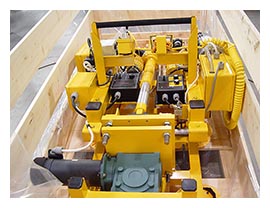 If your vacuum lifter requires repairs that are not covered under the maintenance instructions, please contact us or your Wood's Powr-Grip Authorized Dealer or the for service. To facilitate scheduling of repairs for your vacuum lifter, please have the model number, serial number and date of manufacture ready.
Byron LaRue
has more than 20 years of experience writing and translating literature about glass, stone and general materials handling. He is currently serving as the Senior Staff Writer for Wood's Powr-Grip.