An Alternative to Buying
by David Peters
So a job comes along that requires the horsepower of a serious vacuum lifter. It's one of those infrequent jobs that doesn't justify the purchase of the vacuum lifter necessary to complete the project, but the money is good, and the exposure is sure to bring your company more jobs in the future. Now is the perfect time to take a look at the Equipment Leasing Program from Wood's Powr-Grip®.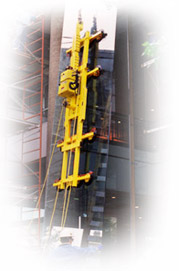 While some look at leasing with a sneer, there are actually quite a few benefits to leasing as opposed to buying. Leasing frees up your capital and gets you the state of the art equipment you need, while enabling you to spend your hard earned cash on assets that increase in value. And when it comes to vacuum lifters, leasing the right piece of equipment can help reduce employee injury while handling heavy loads and decrease breakage during complicated installations. That will save you money. Additionally, employing the right vacuum lifter can reduce the number of workers required to do a project, freeing your crew to move on to other jobs more quickly. More work that will make you more money and bolster the bottom line. Wood's Powr-Grip and many of our dealers have put together a selection of vacuum lifters for lease representing those most frequently requested:
P21104-DC - WPG P2 lifters have seen action on some fairly notable, high-profile jobs. Because this vacuum lifter is ideal for lifting larger pieces of glass, weighing up to 1,400 lbs. [635 kg], it has been used to install storefronts, skylights, aquariums and zoo exhibits. The manual rotation and tilting capabilities of the P2 vacuum lifter, along with its 4-1/2' [1.38 m] or 7' [2.14 m] width, provide maximum versatility in a variety of work settings. Most recently, the P2 gained notoriety for its use in the erection of the Visitor's Atrium at ground zero in New York City.
CB2DCS - If you take the P2 vacuum lifter (above) and couple it with the CB2DCS Counter-Balancer/Lifter, you have the perfect equipment combination for some tricky installations: The CB2DCS allows loads to be positioned under overhangs by extending the lifter away from the slings, making installs under an overhang a breeze. P2 lifters can also be inverted on the Counter-Balancer for reverse-angle installations. The P2 with CB2DCS is the exact equipment combination used for the installation of windows in control towers at airports.
MRTA611DC - Got a job with curtain wall installation with irregularly spaced glass panes? Not a problem not when youre using the MRTA6 vacuum lifter from Woods Powr-Grip. With 8 different configurations, this lifter can easily be transformed to lift loads with multiple glass sizes shapes and spacing. It rotates and tilts, while the dual vacuum system helps keep your load safe by maintaining the vacuum level for one circuit even if an unexpected vacuum loss occurs in the other. With a capacity of 1100 lbs. [500 kg], (re)movable pad frame mounts and extension arms, the versatility and functionality of this lifter is legendary.
MR1611DC - When it's time to think BIG, its time to think MR16! Along with a maximum capacity of 2800 lbs [1270 kg], the MR1611DC features a wide variety of pad frame configurations for loads of nearly any size and shape. The WPG lease lifter also comes equipped with a radio remote control that allows operators to attach or release the load from remote locations, as may be required for multi-story installations. This vacuum lifter is ideal for heavy window or curtain wall installation.
MRTALPR4FS625DC - Not only does this vacuum lifter have a long name, but it has a long reach as well. The MRTALPR4FS625DC (referred to as the "Panel Master Vacuum Lifter") can be configured out to 32 feet long, making it capable of handling architectural cladding and insulated panels for roofs and walls up to 60 feet in length. This rotator/tilter comes from our low-profile series of vacuum lifters and is designed to fit in tight spaces, allowing for its use between scaffolding and buildings. The MRTALPR4FS625DC is ideal for installing metal panels or other products with some surface texture.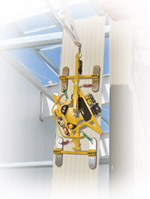 Leasing gives you the horsepower you need to do the job at a fraction of the price of purchasing a vacuum lifter. It also frees you from having to do maintenance or repair, gets you the latest and greatest equipment on the market to do the job, and the cost of leasing equipment is 100% tax deductible. So when you have a big project, and you want to get it done right, be sure to consider our lease program and let Wood's Powr-Grip do the heavy lifting. As a convenience to customers, Powr-Grip Distributors such as CR Laurence have lease equipment in stock and ready for lease, from coast to coast. Lease equipment is available on a first come, first served basis. The earlier you book your lifter lease, the better your chances are of getting a lifter from a warehouse in your area. This will greatly reduce the freight costs and save you some money. A lease agreement and a security deposit are required in order to reserve a vacuum lifter. Lease equipment is available for use within the United States and Canada only. Lease terms and circumstances may vary from Dealer to Dealer. Please refer to the
Lease Agreement
for complete information about leasing Wood's Powr-Grip lifters. Visit the Woods Powr-Grip
Authorized Dealer
nearest you, or feel free to
contact
Wood's Powr-Grip Technical Sales for assistance, current lease rates and availability.
---
David Peters had more than 40 years experience in sales and marketing. He was the marketing associate for Wood's Powr-Grip Co., Inc., responsible for interactive marketing, tracking, market research and new product introduction.