by David Peters
The Wood's Powr-Grip® PT10 vacuum lifter has established itself as the workhorse for load manipulation in stone fabrication shops worldwide. With powered tilt, ten 10" [25 cm] vacuum pads, an impressive 1500 lb [680 kg] capacity and robust construction, the PT10 continues to help reduce breakage and reduce manpower needs, all while increasing safety and the shop's bottom line.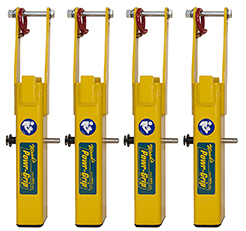 Pad Frame Extensions are an option designed to maximize the versatility of the PT10 vacuum lifter. Specially engineered to fit new and used PT10 vacuum lifters, these extension arms allow the operator to reconfigure the pad frame layout to accommodate different sized or irregularly shaped loads. There are 7 different points on the PT10 frame that will accept the Pad Frame Extensions. To mount the Pad Frame Extensions, a vacuum pad is removed from its existing location. The Pad Frame Extension is then slid into the steel frame of the lifter and secured in place by inserting a cotterless hitch pin through the pad frame and extension. The vacuum pad is then moved towards the end of the extension arm and remounted with another cotterless pin, 12" [30.5 cm] further out from the main frame. Although Pad Frame Extensions are sold individually, we suggest that the extensions be purchased and installed in pairs, to maintain the balance and symmetry of the lifter.
With the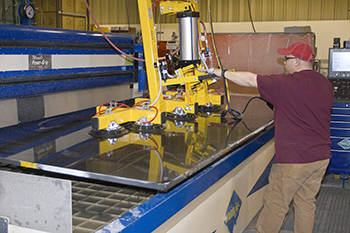 Pad Frame Extension arms in place, the vacuum lifter is now configured to support significantly wider or longer loads (depending on configuration). New and existing customers alike will appreciate the facility and ease of use engineered into the new PT10 Pad Frame Extensions.
The PT10 itself has an impressive array of standard features, including spring mounted vacuum pads with individual shutoffs to each pad. The spring mounted pads allow the vacuum lifter to quickly attach to surfaces that are less than perfectly level, while the individual pad shutoffs allow the operator to turn off the vacuum to pads that may be positioned over large surface irregularities or holes. Closed cell foam pad rings enable the operator to lift loads with some surface texture, and a vacuum blow-off feature allows for quick release of the load and faster turn-around times.
The PT10 is available with an AC, DC, or AIR powered vacuum system and is available with a vacuum loss warning buzzer, DC vacuum back-up system or control handle extensions options. For more specific information, visit the Wood's Powr-Grip Dealer nearest you, or feel free to contact one of our Technical Sales Representatives.
---
David Peters had more than 40 years of experience in sales and marketing. He was the Digital Media Expeditor for Wood's Powr-Grip Co., Inc., responsible for interactive marketing, tracking, market research and new product introduction.