by David Peters
This time of the year, you hear it over and over again, "They are just so hard to buy for - I don't know what to get them, they have everything! I just can't think of anything to get for them." Holiday shopping can be a bear! But in this day and age of electronic gadgetry, surely there is something unique out there that stuffs the stocking. This is where Wood's Powr-Grip® comes in, with a full line of mounting solutions that is sure to provide something for everyone on your Christmas shopping list.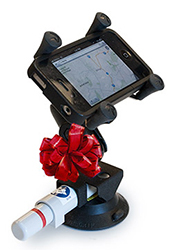 Everyone Has A Cell Phone
A recent Pew Research poll shows that 90% of all American adults now have cell phones. So, unless the target on your shopping list is living in the dark ages, what could be better than a versatile hands-free mount for their cell phone?
A Bunch of People Have Tablets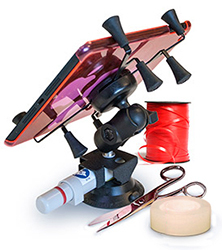 I searched the Internet long and hard for stats on this, and my findings show that approximately 70% of American households now have large and mini tablets (including iPads, mini iPads, Kindle readers, etc). But have you noticed? They are so hard to hold and operate at the same time! And you guessed it - WPG mounting cups can be used for tablets, as well.
Digital Camera Mounts Anyone?
Face it, in this age of the selfie, virtually everyone has access to a digital camera. And not all of those people are solely bent on holding the camera at arm's length, just to snapshot the Dolphins sweatshirt their Grandmother in Florida sent them for Christmas. Some like to take real photos, like landscapes, and wildlife, and sunsets and the night lights of Vegas (or is it just me?). From the amateur to the pro, WPG has a camera mounting solution that will surely please the photo buff on your Christmas list.
We have spotted WPG mounting cups all over the tube on reality TV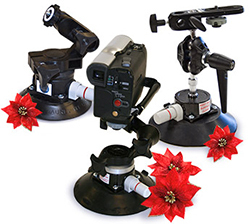 shows like Deadliest Catch, Storm Chasers, Ice Road Truckers and Alaska State Troopers, just to name-drop a few. They are used by the pros on these shows because they attach quickly and securely to any smooth, nonporous surface. They are lightweight and portable, and the industrial strength vacuum cups are sturdy and dependable. Without getting into a whole bunch of specifications and numbers here, suffice it to say that on the 25th of December, those photographers on your list will be overjoyed to find any one of these mounts in their Christmas stocking.
Christmas is Just Around the Corner
I can hear the sleigh bells from here. There isn't much time, so get your order in today for your favorite mount by contacting the Wood's Powr-Grip Authorized Dealer nearest you, because Wood's Powr-Grip has something for everyone on your Christmas list.
David Peters had more than 40 years of experience in sales and marketing. He was the marketing associate for Wood's Powr-Grip Co., Inc., responsible for interactive marketing, tracking, market research and new product introduction.