by Byron LaRue
Spellbound, I stand with my nine-year-old daughter, watching river otters dive, twist and chase each other under water. We are so close, I could reach out and touch them, were it not for the thick glass between us and their pool, giving us a perfect view of their playful antics. I could spend hours here, but eventually my daughter pulls on my arm to move on to another animal.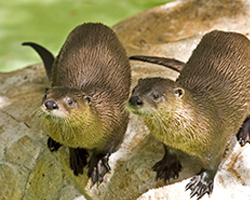 We have come to take these experiences for granted at zoos and aquariums everywhere. But have you ever wondered how these exhibits are built? Glass installers likely know! Despite a few unusual challenges, the same basic techniques they use every day are also employed to build zoo and aquarium exhibits. And just as we do in other installation jobs, Wood's Powr-Grip provides the right equipment to get the job done!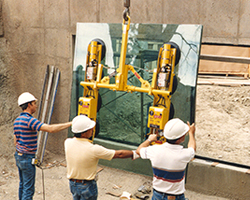 One challenge posed by aquarium tanks and other water enclosures is the thickness of glass or acrylic tank materials. These tanks have to hold back an incredible amount of water pressure, often resulting in the use of extremely heavy glass, measuring 1? [2.5 cm] thick or greater. Not only does this rule out manual installation, but it also requires lifting devices capable of handling enormous glass weights, in a variety of sizes. Powr-Grip offers a perfect solution with our expandable Channel Lifter series, and other high-capacity lifters. In this example (shown at left), a P2110445DC vacuum lifter with 1400 lbs [635 kg] load capacity installs heavy glass from the inside of a future underwater viewing area.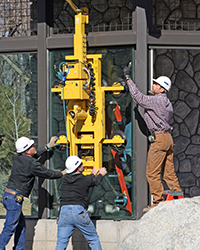 In addition to the need to contain water pressure, thick glass is also used in zoos to protect people from dangerous animals, while allowing them to come face to face in an exciting encounter! As shown here (shown at right), Powr-Grip's MR1611LDC lifter installs heavy glass in a grizzly bear exhibit. With 2800 lbs [1270 kg] load capacity and a highly adaptable pad frame, this vacuum lifter easily handles thick glass with practically any dimensions.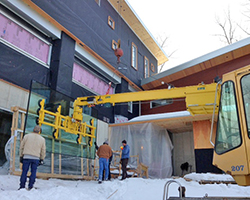 Another common difficulty faced in animal exhibits is the existence of overhangs or similar obstacles. To solve this problem, some Powr-Grip installation lifters come equipped with segmented lift bars. When shortened, they reduce the need for overhead clearance, permitting the use of a Gradall® or squirt boom to install glass. However, some installations can require even more specialized equipment. That's why Powr-Grip introduced the CB3DC Powered Counter-Balancer (shown at left). Originally designed to construct enormous zoo enclosures, this equipment is used in combination with our MR16 vacuum lifter to reach nearly 7 feet [2 m] under troublesome overhangs and install glass weights up to 2800 lbs [1270 kg]. So the next time I'm standing nose to nose with a grizzly bear, walking beside a tiger, or watching sea lions do their underwater dance, I'll be thinking about the hard-working installation crew that made my experience possible. I hope you do, too! If you have any questions about Wood's Powr-Grip vacuum lifting equipment, how it can make your work easier, or photos of a special installation project you would like to share, please
contact us
.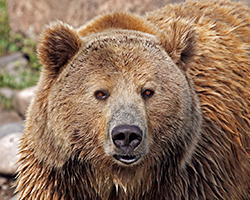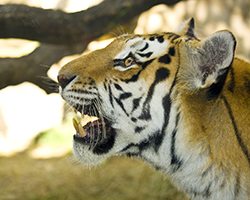 ---
Byron LaRue has more than 20 years of experience writing and translating literature about glass, stone and general materials handling. He is currently serving as the Senior Staff Writer for Wood's Powr-Grip