by David Peters
The DC-powered Cladding Lifter (model MTCL6FS625DC) is an ideal tool when working with insulated metal panels (IMP's) and other cladding materials. Buildings using prefabricated materials, like various cladding goods, are economical, efficient, and quick to assemble. The Cladding Lifter multiplies these effects, saving you time and money.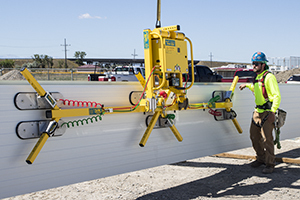 The lifter achieves its usefulness in cladding installation by using specialized foam rubber vacuum pads. These pads conform to surface contours up to 3/8" [9.5 mm] in depth. Operators can easily remove, rotate and reposition vacuum pads as needed, to obtain optimal support of the materials. Additionally, the Cladding Lifter features a 90° manual tilt with hydraulic damping. It also features automatic latching (when desired) to transfer materials easily between the flat position and the upright position.
Optional pad frame extensions can be added to augment the Cladding Lifter's versatility in handling a variety of materials. It has a standard load capacity of 700 lbs [320 kg]. When the optional extensions are installed, it can be configured to stretch up to 196 inches [498 cm] in length.
The Cladding Lifter also comes generously equipped with a full complement of standard features: A dual vacuum system and vacuum reserve tanks reduce the risk of falling loads. A battery energy gauge allows the operator to visually check the battery's charge. And a low vacuum level buzzer sounds an audible alarm if the vacuum is not sufficient for lifting the maximum load weight.
To obtain more information about the Cladding Lifter, please contact one of our Technical Sales Representatives or visit your local Wood's Powr-Grip Authorized Dealer for pricing and delivery information.
---
David Peters had more than 40 years of experience in sales and marketing. He was the Digital Media Expeditor for Wood's Powr-Grip Co., Inc., responsible for interactive marketing, tracking, market research and new product introduction.