by Andrew Pector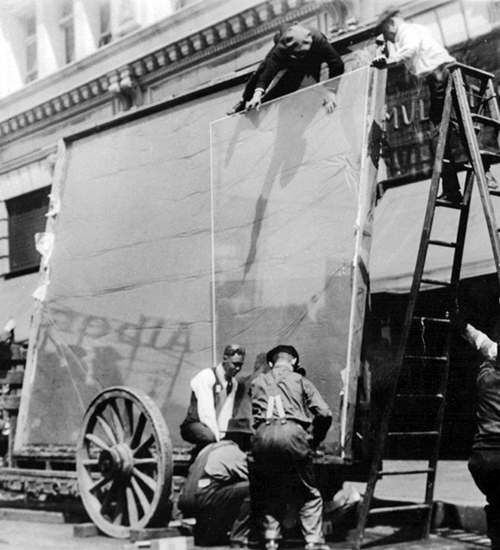 Transporting glass in 1927. Little changed in glass handling until the introduction of Hand-Held Vacuum Cups.
I was 16 years old. It was 1967. While working at my after school job, cleaning up in a glass shop, I heard a crash and bloodcurdling yell. Dropping my broom, I ran toward the commotion. In a pool of blood lay Moe, the truck driver. He and Clint had been
bucking
a piece of ¼-inch thick glass, about 72" X 96", and weighing about 150 lbs.
Bucking was the term given to the primary method of lifting and moving glass, probably the method most used since the process of making large plate glass began. Bucking involved two glass handlers, one on each end of a large sheet of glass. Holding the glass vertically with one hand above their head and the other further down by their leg, they used their upper hand and body weight to push against the glass and the other handler while lifting the glass with their lower hand. Small rubber pads, sometimes cut from tire inner-tubes, were folded, or lapped, over the edge of the glass to protect their hands from cuts and to provide additional grip along the sharp, narrow edge. Appropriately, these rubber pads were called laps.
Unfortunately, the lower edge of Clint's side of the glass had a small flaw in it, which when the glass was lifted, became a run (like a crack in a windshield). The glass split in two from the bottom of Clint's side to the upper edge of Moe's side. When the glass fell it sliced through Moe's right shoulder, breaking his collar bone, laying open his upper arm. Soon after, I was recruited to help Clint lift the rest of the load of glass using the same old method. The job had to be done, and that's the way we did it; but to this day, that image still haunts me (as do some of the jokes Moe told on his way to the ambulance).
At the time there were suction cups available that used a flip-lever to create the hold, but my boss didn't trust them because if they leaked, they would just suddenly drop the glass; and he had been hurt in just such an incident. However, when we got our first set of Wood's Powr-Grip, 8-inch hand cups, they completely changed the way we handled glass! What made these cups different was the unique vacuum pump in the handle which not only indicated if there was a leak, but during a lift also allowed the handler to re-pump the cup until the glass could safely be set down, thereby saving the glass. This was the game-changer for the entire industry!
Years later, I went into business and along with my partner Russ, formed Ace Safe Glass Handling Systems. We used Wood's Powr-Grip's 8-, 9- and 10-inch cups as the working end of one of our handling products, the Ace Dolly. Instead of an overhead system, the dolly used rollers, a manual winch and a lifting frame using three WPG vacuum cups to lift and transport large sheets of glass across concrete floors. This device, using Powr-Grip's cups, would likely have prevented Moe's accident, protected my tender young ears from his raw sense of humor and prevented him from being kicked out of the hospital for flirting with the nurses, only two days after his accident!
In 1976, I drove to Wolf Point to meet Keith Wood, then president of Wood's Powr-Grip. It was a long dusty trip. Since I was arriving on a Saturday, I asked if he could put a couple vacuum cups on the windows outside the house, so I could find it. He did and I found it!
I was invited to spend the night in a spare room and gratefully accepted. After a fine home cooked dinner of burgers and tater tots and an evening of conversation and TV, (this was before Netflix and YouTube), we all retired for the night. At about 3 am, loud voices awakened me from my slumber! It seems that the Wood's oldest son, Bryan, current President and CEO, was caught coming through a window after sneaking out to party with friends.
More importantly, the next day we took a scenic tour of Wolf Point which included a visit to Wood's Powr-Grip where I met and shook the hand of Howard Wood; the man who changed glass handling and saved glaziers everywhere from thousands of injuries, some of them, even their lives.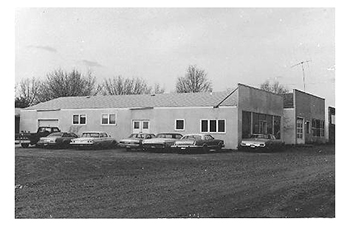 During this trip I learned more about Howard and the auto-electric repair shop where he invented the Powr-Grip Valve Grinder to lap small valves during engine rebuilds and about other inventions, such as a water-jet engine for a canoe, a high-efficiency venturi and a wind-turbine generator. Of course, Howard also went on to invent and patent the first hand-held, plunger-style vacuum cup that became the "gold standard" in glass handling. This simple little device was the grandfather of the present day dynasty of wonderful lifting equipment made by Wood Powr Grip.
Some 20-years after my first visit, I went to work for Wood's Powr-Grip in Customer Relations. During the six years I spent working for WPG I visited over 2000 glass shops. For the most part, I traveled around the North America shaking hands, answering questions, and instructing users on the safe use of and the importance of properly maintaining vacuum handling equipment.
Out of the glass shops I visited, I only found one automotive glass replacement shop that didn't use ANY Vacuum lifting or handling equipment! The one man shop was owned by Fred, a nice, friendly 87 year old geezer who said, "By Crackey; I don't trust something I can't see!" I just smiled and decided I would not engage him in a religious, political conversation, or complicated subject like gravity or hot air. I just shook his hand and let him know he could call if he had any questions!
In its 50 years of operation Wood's Powr-Grip has become universally respected and used worldwide by glass handlers. I enjoyed traveling the US and representing, in my opinion and that of many others, the world's best vacuum handling equipment company! From my point of view, if there was a "Glass Hall of Fame", along with the Phoenicians who first invented glass, Howard Wood would be one of the first nominated to be in it!