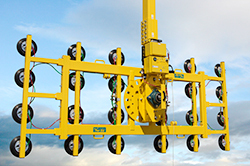 by David Peters
With peak construction season upon us, many companies are faced with hard decisions that could affect their futures in business. One important factor may be deciding whether to lease or buy the equipment needed for a specific job. Leasing the necessary equipment can certainly be a viable alternative to buying!
Here are 7 ways leasing can save your business money!
1

Bid jobs more accurately

Knowing the fixed costs of installation in advance allows you to determine how much you need to charge, based on labor, overhead, equipment and profit margin. When you lease the equipment needed for the job, you know up front what your hard costs will be.

2

Free up your capital and get state-of-the-art equipment
It's a good idea to own equipment that you will be frequently using. However, if the equipment is used infrequently, leasing saves you money that can be spent on assets that appreciate in value.

3

Receive well-maintained equipment, best suited for the job

Using appropriate, fully serviced equipment helps reduces injury and breakage during complicated installations. Broken materials, broken equipment and broken employees dig deeply into your bottom line. When you lease Wood's Powr-Grip equipment, you are assured that it is in good condition and ready for the job.

4

Reduce the number of workers required for a project

With the right vacuum lifter, installations can be done with fewer people. This frees up your workforce to take on more business and accomplish jobs more quickly. The increase in productivity means more work with fewer costs, bolstering the bottom line.

5

Complete a job for a fraction of the price of purchasing

Bidding on big projects is great if you have the equipment required to get the job done. Leasing equipment that you would not normally purchase enables you to bid larger jobs allowing you to compete with industry Heavy Hitters.

6

The cost of leasing equipment for a job is 100% deductible

Consult your accountant 100% deductible can be a very desirable thing when it comes to the annual bottom line. (See Section 179 of the IRS Tax Code.)

7

Avoid paying for costly maintenance and repair

Ordinary maintenance and repair are performed by trained technicians at no cost to you. Be sure to read your lease agreement carefully and thoroughly to avoid unnecessary charges when returning lease equipment. Proper equipment operation and handling will provide you with a lease experience free from unnecessary maintenance and repair costs making you more money.

Leasing gives you the horsepower you need for a fraction of the price of purchasing. It also frees you from having to do maintenance or repair, gets you the latest and greatest equipment on the market, and is 100% tax deductible. So when you have a big project, and you want to get it done right, be sure to consider leasing and let Woods Powr-Grip equipment do the heavy lifting.
Woods Powr-Grip and many of our dealers have put together a selection of vacuum lifters for lease representing those most frequently requested:
NEW TO THE FLEET! MR2411LDCS With glass, curtain wall and architectural panels ever increasing in size, this lifter arrives on the scene with a 4200 lbs [1905 kg] capacity. Its pad frame extends up to 5-1/2 ft by 13-1/2 ft [1.7m x 4.1 m] and easily handles the installation of larger unitized glass systems. 360° rotation with stops at every 22.5° enables precise positioning of large architectural panels. If you need to install the big stuff the really big stuff the MR2411LDCS will be a welcome addition to the job site.
NEW TO THE FLEET!
CB3DCS
-- At 18-1/2 ft [5.6 m] long and capable of lifting a massive 2800 lbs [1270 kg], the CB3DCS Counter-Balancer is one impressive machine. It features a maximum reach of nearly 7 ft [2 m], making short work of the most troublesome overhangs or obstacles. It comes with a rigid mount, designed specifically to attach the WPG MR1611LDC Vacuum Lifter (above). With remote control and refined operation, the CB3DCS provides excellent safety and efficiency on the job.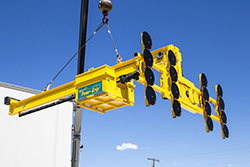 As a convenience to customers, Powr-Grip Distributors, such as CR Laurence, have many of the lifters listed above in stock and ready for leasecoast to coast. Lease equipment is available on a first come, first served basis. The earlier you book your lifter lease, the better your chances are of quickly getting a lifter from a warehouse in your area. By going through your local distributor, you greatly reduce your freight costs, saving you money.
A lease agreement and a security deposit are required to reserve your vacuum lifter. Lease equipment is available for use within the United States and Canada only. Lease terms and agreements may vary from Dealer to Dealer.
Please refer to the Lease Agreement for complete information about leasing Wood's Powr-Grip lifters.
To find a Wood's Powr-Grip Authorized Dealer near you or for additional details, please contact one of our Technical Sales Representatives.
---
David Peters has more than 40 years of experience in sales and marketing. He is currently the marketing associate for Wood's Powr-Grip Co., Inc, responsible for interactive marketing, tracking, market research and new product introduction