by Lisa Hagel
If you thought Wood's Powr-Grip® Hand-Held Vacuum Cups did not work on pattern glass or other textured surfaces, we have a surprise for you! Powr-Grip Textured Surface vacuum cups have been redesigned to more capably meet the challenge of handling shower doors and windows with patterned, textured, cast or irregular surfaces. In fact, these vacuum cups are even suitable for certain rough-surface stone applications.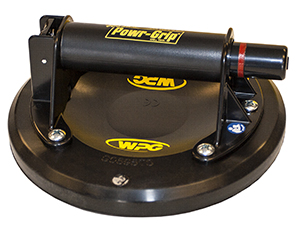 At the core of the redesign is an 8" [20 cm] diameter aluminum pad ring that is molded into
medium-flexible rubber
. Being 1-3/8" [3.5 cm] larger than the old pad ring, the new ring supports the sealing edge of the vacuum pad more directly and causes the edge to push deeper into irregular surfaces of the load material. This greatly improves attachment and provides a more complete seal, reducing the likelihood of damage from unexpected release and preventing possible injury to workers. Another important difference is the redesigned sealing edge of Powr-Grip's Textured Surface vacuum pad. The multiple grooved edge found on the previous pad has been replaced with a single, larger sealing edge. Coupled with the firmer, medium-flexible rubber used on the new pad, this sealing edge pushes deeper into textures while retaining enough flexibility to conform to irregular surfaces. Again, this provides a more complete seal across a broader spectrum of surface types, making the new pad much more versatile. Notably, the medium-flexible rubber of the new pad also offers a higher degree of resistance to UV degradation, giving the vacuum pad an extended service life while saving you money in the long run. The
Textured Surface vacuum cups
still offer the same superior build quality that you have come to expect from Wood's Powr-Grip. The N4000TS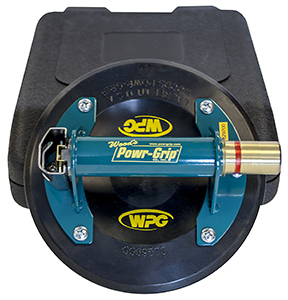 features a durable ABS handle that is ideal for use in wet environments, due to its corrosion-resistant qualities, whereas the N4950TS sports a robust metal handle, exemplifying the strength and durability that have long been the hallmarks of Powr-Grip products. If you would like more detailed information, visit the
Wood's Powr-Grip dealer
nearest you.
Lisa Hagel was the Advertising/Marketing Coordinator for Wood's Powr-Grip Marketing team. She has experience in marketing, advertising, market research and consulting.