by Joe Landsverk
Every day the ER staff stands ready! Suddenly, a bay door opens, a sharply dressed, uniformed attendant carefully transfers injured, over-worked, tired and aging vacuum cups onto waiting carts. Some days there are few incoming, some days many - regardless, within moments the injured are whisked away into the tender loving care of professionals who revitalize, rejuvenate and restore - making them look better, attach faster and hold stronger giving them a new lease on life - STAT!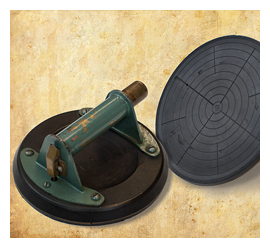 Got a tuckered sucker? a pooped pump? a bad pad? Not to worry! Wood's Powr-Grip's Exchange and Repair (ER) service is standing by to help fix what's ailing you - or rather - what's ailing your vacuum cup!
Powr-Grip's Exchange Program
Developed decades ago to help conserve our natural resources and to keep our most popular industrial vacuum cups in top operating condition, Wood's Powr-Grip's Exchange program is unique! Regardless of condition, all of these cups can be returned to a participating Instant Exchange Dealer or to Wood's Powr-Grip in exchange for a like-new, remanufactured vacuum cup of the same model. Instant Exchange Dealers stock exchange vacuum cups and can provide a remanufactured cup on the spot. This not only puts a working vacuum cup back in your hands immediately, but eliminates down-time and shipping charges! Vacuum cups sent to the Wood's Powr-Grip factory for exchange are usually released for shipment within 24 hours of receipt.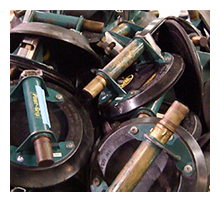 Leaving ER
Before ER releases any exchanged or repaired product, it is thoroughly inspected and tested to verify that it meets Wood's Powr-Grip's rigorous quality standards, the very same criteria used to assure the reliability of newly manufactured products! Once tests are performed to insure that the product is as good as new, it is nestled safely into a shipping box or crate with a new case or pad cover (depending on the model) along with new operating instructions and any comments about the care your product received while in ER.
The Best Part
Unfortunately, a trip to the ER isn't free - but it is a very conscientious and economical way to ensure your vacuum handling products remain in good operating condition! Depending on the model, Powr-Grip's Exchange and Repair service can save as much as 30% compared to a new purchase. When compared to the cost of an industrial accident, it is an investment that can't be beat!
Getting admitted to the ER
There are just a few easy steps to get admitted to the ER - just head to our Exchange Program page!>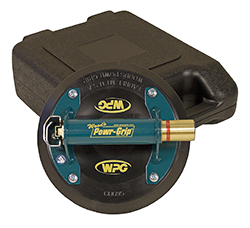 You see, it's really not that difficult! So what are you waiting for? Get that tuckered sucker into the ER today!
Joe Landsverk was the Marketing Manager of Wood's Powr-Grip. With more than 28 years' service, he oversaw the company's day-to-day marketing and advertising activities.